Experience the Finest on Sugar Creek!
Canyon Camp Cabins
Camping Without the Tent
All trips closed for the season as the water on Sugar Creek is extremely low. The campground and the canyon camp cabins are closed also.
We are keeping the Log Cabins open through Oct 16th with self check-in procedures.
The Canyon Camp Cabins (Overlook & Hideaway) are one-room camping style cabins outfitted with electricity, air conditioning, roll-away & bunk beds (with mattresses), table with chairs, screen porch, fire-ring, charcoal grill and picnic table - all cooking is done outside. Bring everything necessary for camping except the tent! Located just a short walk from the campground restroom and shower facility in the Canyon campground, each cabin has a view of Sugar Creek and sleeps 8 people. Non-smoking. Weekends require a two-night minimum; holidays require a three-night minimum. The cabin season is mid-April - Oct.12   Pets are NOT allowed.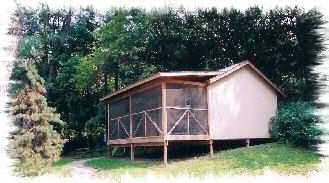 CANYON CAMP CABIN RATE
$75.00 + taxes per night - based on two people or family of four (mom, dad & kids).
Extra People: $14.00 + tax per person per night.

Signed Waiver required at check-in.

Canyon Cabin Policies
Security deposit required at time of rental Check-In: $100.00

If no damages or complaints occur, if trash is removed, camp site, cabin is clean and the below policies are followed the deposit is returned/voided after inspection. 

Rowdiness, loud, lewd, or disruptive behavior is not tolerated.
Possession of alcohol by persons under 21 is prohibited.
Removal of or damage to property of any kind is not allowed.
Trash from camp site, fire-ring and cabin to be placed in provided dumpsters.  Area should also be free of clothesline and cigarettes butts.
$100 additional cleaning charge may apply to the cabins if necessary.
Cabin furniture not to be used outside.
Cabin rental requires that all cooking takes place outside.
Lost cabin key = $5
Vehicles allowed only in designated areas.
Camping only at designated camp sites. 
Moving tables and/or fire-rings form other camp sites is not allowed.
Quiet Hours: 11:00 PM to 7:00 AM
Check-Out: 12:00 Noon
Check-In: 3:00pm - 8pm Weekdays and 3:00 - 10:30pm Friday and Saturday

PROHIBITED:
Pets
Pop-Ups or RVs
Loud Music
Swimming
Fireworks
Firearms
After-Hours Check-In 
Cutting of trees and branches
Firewood from outside the Canyon Campground (due to Emerald Ash Borer disease)
Washing dishes in restroom sinks/showers.  (Use outside faucet.)
Smoking in cabins, restrooms or camp store (Do not dispose of cigarettes on ground or in fire-ring.)
A signed Waiver is required before participating in any CCOC event.
Top